According to the Canadian Real Estate Association, Canada's erratic 2022 market ended with 21,840 houses sold across Canada in December as home prices stayed relatively flat. The average house price nationwide dropped just 1.02% from November's $632,802 average to $626,316.
For those who love a little luxury lurking or are actually looking for a new home in the million-dollar price range, we're here to help! Here are some of the best listings available from coast to coast:
British Columbia
Whether interested in Lower Mainland or Vancouver Island, you'll be in Canada's westernmost province, situated along the Pacific Ocean. British Columbia is renowned across the world for its breathtaking natural beauty.
Property details:
Apartment
2 beds, 1 bath, 2 parking
Walking score 93/Transit score 82
The finishes and attention to detail in this renovation will astound you! You'll also notice how spacious this property is, ideal for entertaining. Enjoy the private patio all year round. This apartment is bright and roomy and comes equipped with full-sized appliances. Finally, the area offers a lot because you can quickly stroll to Davie Street, Denman, English Bay, grocery stores, restaurants, and so on.
Property details:
Apartment
3 beds, 2 baths, 1 parking
Walking score 78/Transit score 88
With an open floor plan, top-of-the-line appliances, oversized bedrooms with built-in closet organizers, and a wall of floor-to-ceiling windows that offer stunning views to the north, west, and south, this large apartment has it all. This corner unit at Park Boulevard includes amenities like a gym, indoor swimming pool, sauna-steam room, indoor badminton, theatre room, outdoor patio and garden lounge, and a children's play area. You'll be minutes from the Surrey Central Shopping Center and only a few steps to the Skytrain.
Alberta
The Calgary Real Estate Board (CREB) stated that new listings fell by 16.3% while sales activity fell by 30.6% year-over-year in December 2022. Calgary's already low inventory levels dropped to 2,214 units last month, the lowest December level in almost ten years. However, compared to pre-pandemic levels, Calgary's real estate activity and prices have increased and are more substantial than the city's long-term trends.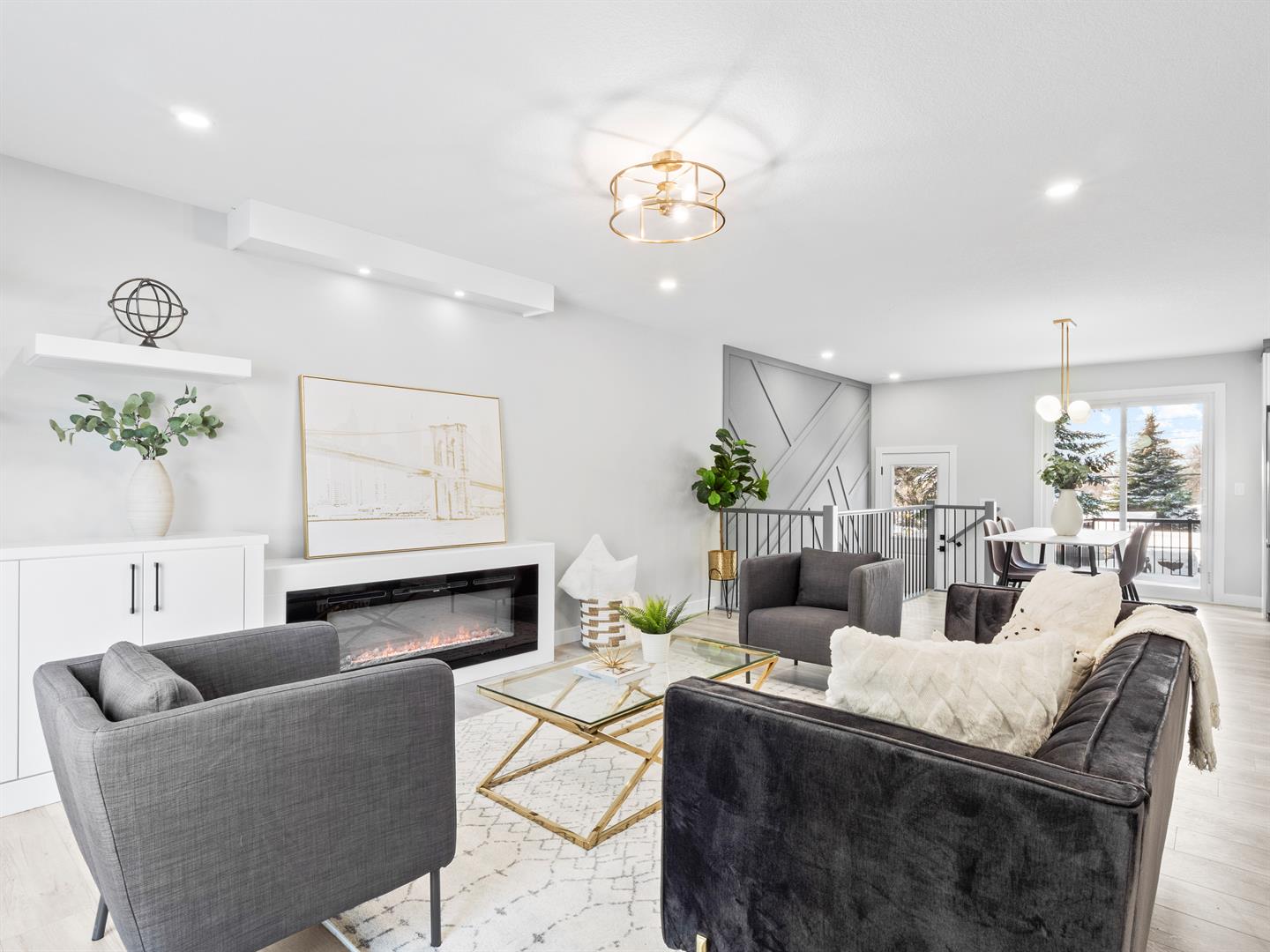 Property details:
Detached
5 beds, 3 baths, 2 parking
Walking score 13/Transit score 41
When you enter, an open-concept foyer and a large living room with a custom entertainment unit and an electric fireplace built in will greet you. A grand dining room with a lovely feature wall leading to the patio door and deck is across from the living room. A large walk-in closet and a walk-in shower are exclusive to the primary bedroom. The main floor also includes two additional bedrooms, a full bathroom, and a laundry room accommodating a big family. Two more bedrooms with roomy closets and a wet bar are in the basement.
Property details:
Detached
4 beds, 4 baths, 4 parking
Walking score 13/Transit score 41
This stunning new house has lots of natural light, a gorgeous kitchen with quartz countertops, a den, a mudroom, and a formal dining room on the main level. Upstairs are four bedrooms, including the substantial primary bedroom with a spa-like ensuite and a two-way fireplace, and three other bedrooms with attached bathrooms. The basement has a lot of possibilities, and there is a separate side door for a potential extra apartment.
Saskatchewan
Never listen to someone who claims that Saskatchewan is a boring Canadian province. The Land of Living Skies is much more than just limitless plains. Their CFL team, the Saskatchewan Roughriders, may be loved more than Hamilton loves the Ti-Cats!
Property details:
Detached
5 beds, 4 baths, 8 parking
Walking score 16/Transit score 33
This home greets you with a grand foyer with high ceilings and a versatile space that may become a reception or formal dining room. On the main floor, there is a sizable living room, dining area, and gourmet kitchen with lots of cabinet space and a walk-in pantry. Upstairs are the bedrooms and baths. The luxurious indoor waterfall, which elevates the main bedroom, is the element that stands out the most. A family room, wet bar area, den that may double as a home office or gym, a 4-piece bathroom, and a bedroom are all included in the completed basement.
Property details:
Detached
3 beds, 3 baths, 8 parking
Walking score 20/Transit score 26
This home is perfect for people who love their morning routines. The front office, which has sliding glass doors, a built-in desk, and shelving, is past the porch, which has a walk-in closet. The dining room, next to the patio doors leading to the covered deck with composite decking, is the focal point of the main floor. At the top of the stairs is the main bedroom with a drop ceiling and a well-designed five-piece bathroom, with the focal point being a glass and tile shower with doors on both sides, perfect for exiting to your makeup station or your walk-in closet. A jet tub and an electric fireplace area complete the bathroom.
Manitoba
As a result of a rise in November's year-over-year inventory and a decline in month-over-month sales, Winnipeg and its region's market performance is moving toward the stability of a balanced market. The inventory for November 2022 grew by over 94% year-over-year and is already 1% above the 5-year average.
Property details:
Detached
4 beds, 3 baths, 8 parking
Walking score 0/Transit score 0
This lakefront property is stunning. You'll find a custom kitchen, a sizable dining and living area, and two-story windows for the best views on the main level. Enjoy outdoor entertaining on the second-level deck, which spans the entire house width, or within the spacious sunroom. The lower level has a walkout that has a wet bar, an entertainment area, and a walk-in wine cellar. Enjoy a boathouse with a marine rail lift system, a deck on top with a hot tub, frontage landscaping, and stone stairs as just a few of the features.
Ontario
In December, the real estate market in the Toronto area continued to decline. The Toronto Regional Real Estate Board (TRREB) announced that sales were down 48% year-over-year, however prices have flattened in many major Ontario markets.
Whether you're looking for a penthouse or an extra large backyard, here are some homes in Ontario that will fit within your budget:
Property details:
Detached
3 beds, 3 baths, 6 parking
Walking score 30/Transit score 0
This verandah wraps around the house, enhancing the curb appeal and leading to a charming gazebo. On the main floor, double doors open to the foyer, formal dining room, and family room with a gas fireplace. The newly constructed spacious sunroom boasts high ceilings and stunning views of the garden and escarpment. The finished basement features another large, well-lit gas fireplace.
Property details:
Detached
4 beds, 4 baths, 6 parking
Walking score 4/Transit score 33
Enjoy the serenity and lovely vistas that come with this corner home's location on a prime block. This charming family-friendly neighbourhood boasts distinctive landscaping and a sizable deck for entertaining guests. Follow the patterned concrete walkway, enter the expansive foyer and enjoy the bedrooms and walk-in closets! The finished basement may also become a legal accessory apartment with the town's consent.
Property details:
Detached
3 beds, 4 baths, 8 parking
Walking score 2/Transit score 0
One of the most one-of-a-kind properties to date, allowing you to overlook the water from the inside. With an indoor pool and waterfall, you can swim all year. Connect to nature with the wall-to-wall and ceiling-to-floor windows. The ideal proximity to a beach is a pleasant luxury. This quiet residential neighbourhood is perfect for growing families and leisure.
Property details:
Condo
2 beds, 2 baths, 1 parking
Walking score 52/Transit score 82
Enjoy this Luxury York Mills apartment with two bedrooms and a den, surrounded by a lovely ravine. The sizeable primary bedroom with private balcony access, ensuite bathroom, separate glass-doored shower, and roomy walk-in closet will make you feel like you're living in a hotel. Use the den as a third bedroom, office or theatre! Maintenance expenses cover all utilities, parking, cable TV, and internet.
New Brunswick
453 houses were sold in New Brunswick throughout December, a 35% decrease from December 2021. Homes sold for an average price of $264,402 in December 2022, a minor 1.1% decrease from December 2021.
Property details:
Detached
3 beds, 2 baths, 4 parking
Walking score 42/Transit score 31
Enter this elegant and spacious open-concept floor plan, which includes a living room with a lovely view of the lake and a stunning chef's dream kitchen. A beautiful family room with a designer custom fireplace and big windows overlooking the backyard is on the main level. The main level's primary suite has a view of the lake and a luxurious bathroom. The second level features a four-piece family bathroom and two spacious bedrooms. Conveniently situated on the third level are a laundry room and mudroom with access to the garage. The unfinished fourth level is excellent for storage or a fun family reno project.
Property details:
Condo
4 beds, 2 baths, 4 parking
Walking score 87/Transit score 0
High-end finishes, glass doors, and polished concrete floors give this contemporary condo with an open floor plan a striking spatial and visual effect. The first floor has three bedrooms, a laundry room, a full bathroom, and an additional den/office. The large kitchen, dining, and living room are on the second floor. There is a large, well-lit fitness centre and a shared, four-car garage with glass doors for your safety and convenience. You may direct your guests to the rooftop patio to take advantage of sunny days or extended evenings under the stars.
Nova Scotia
Nova Scotia has more than 13,000 kilometres of coastline, so the water is always close. One of the most famous lighthouses in the world is at Peggy's Cove, but there are more than 150 in the province!
In December, the benchmark price for all property types increased! The benchmark price for townhouse/row units was the most significant increase, at $478,400, it grew by 19% from the previous year.
Property details:
Detached
4 beds, 3 baths, 8 parking
Walking score 0/Transit score 0
Welcome to the prestigious gated community of Avalon Park in Portuguese Cove. This open-concept house is situated on 5 acres and offers a creative canvas to customize and define how you live. It has towering art walls and light-filled living areas. In this home, living on one floor is feasible without sacrificing anything. With its lavish en suite shower and walk-in closet, the beautiful main suite on the west wing is the perfect place to unwind. Over in the east wing are two additional bedrooms, each with a walk-in closet and a luxurious bathroom. The extra top-level room would work nicely as a private fourth bedroom with a private full bathroom.
Prince Edward Island
PEI is the smallest Canadian province and it's inventory is currently quite slim. The number of new listings was down by 18% from October 2021. There were 232 new residential listings in October 2022, the lowest number of new listings added in October in five years. You'll love Green Gables, golf, and gorgeous sandy beaches. Is this your next vacation destination?
Property details:
Detached
5 beds, 4 baths, 8 parking
Walking score 0/Transit score 0
Enjoy this attractive custom-designed luxury home built with attention to detail inside and out, from the calming atmosphere of the bedrooms to the beautiful landscaping. The expansive deck, stunning island stone fire pit, and professional landscaping elevate even the well-kept backyard in beauty and enjoyment. The kitchen features a large island with a backsplash made of natural stone, many cupboards, and appliances for a chef. The roomy eating and living spaces are welcoming and comfortable.
Property details:
Detached
5 beds, 3 baths, 5 parking
Walking score 0/Transit score 0
Whether you want to be in the heart of PEI or a warm sanctuary, this home is for you. Watch the sunset from your bath or cozy up to your living room fireplace. Create a reading room with cornered windows, or make it your goal to catch something big in the water down the street. There is potential to expand the kitchen and dining area, allowing you to make this the home of your dreams.
Newfoundland & Labrador
Did you know Newfoundland used to be an independent country? The colourful buildings will make you want to explore all day!
Although this province experienced a sharp decline in home sales in December, they were 17.4% above the five-year average and 31.8% above the 10-year average for December.
Property details:
Detached
5 beds, 4 baths, 5 parking
Walking score 0/Transit score 0
This ranch-style home has many excellent elements, including the large camber archways and majestic colonial columns that divide the open-concept kitchen and dining area. On the main level, there is a stunning wood-burning fireplace. The main bedroom has a double vanity, a soaker tub and a large shower. The built-in entertainment system in the basement TV room includes a theatre room, a fitness room and a billiard table. Bring guests outside to enjoy a stone fireplace and hot tub!
Whether you're looking for luxury market insights or affordable properties in your area, our newsletter can help! Subscribe here! We'll keep you updated on all things real estate.